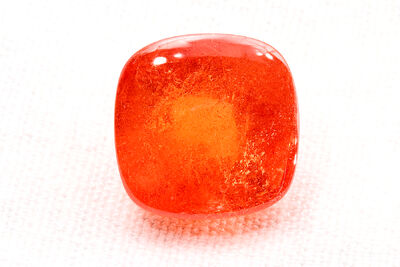 Ramtium is an orange metal of great value outside Hylotia. Every 1 kg is worth 25 Talons.
Properties
Edit
Ramtium is a metal as not quite as durable as steel, but it has unique abilities that make it far better as a weapon. This element is often considered the opposite of Marox, as instead of abosrbing magic, Ramtium pushes magic away from it. When magic is being forced back, Ramtium turns red.
One of Ramtium's many uses is for weaponry. For example, if a moderate sized chunk of this was put near an immensely powerful mage, all magic would be suddenly shoved out of the person and into the rest of the world. This spontaneous loss of magic would almost certainly kill the wizard. As Hylots are unable to use magic, Ramtium is always their metal of choice to ward off any attackers, magical or not.
Ramtium is mined by the Bedias Mining Corporation. Small amounts are exported to other landmasses and sold for approximately 30 Talons, but could be as low as 20 Talons.
Community content is available under
CC-BY-SA
unless otherwise noted.